Cardboard Promotions Big Sports Card & Memorabilia Shows,

Holiday Inn, 31 Hampshire St., Mansfield, MA

Buy-Sell-Trade....Free Packs of Cards for All...Free Hourly Door Prizes.....Hours of 8:45 am to 2:45 pm

.....

80+ vendor tables, $2 admission, under 12 free, free after 12:45. To follow the show on Facebook & Twitter:

Click here for Mail Order Prices on upcoming & previous autograph guests

(Prices are different than in-person autographs



Sunday, December 11 Meet Patriots 7 time Pro Bowler & 2 time AFC Champ LOGAN MANKINS (10:45-12:15, $18 for 1 autograph, $15 each additional) Meet Patriots 1985 AFC Champs PETE BROCK ($8 for 1 autograph, $6 each additional) & GARIN VERIS ($5/autograph), 11-12:30 & Patriots 3 time Super Bowl Champ PATRICK PASS (11-12:30, $9 for 1 autograph, $7 each adidtional. ) Scavenger hunt for $100.00 in gift certificates to the show ! More About the Card Show including Directions including a printable free admission pass Show vendor Steve Rosenblum (cardscash@yahoo.com) -- set-up in the hallway of the show & alway looking to buy collections
Monday, December 26 Meet Bruins Stanley Cup Champ & Hall of Famer JOHNNY BUCYK (11-1, $15 for 1 autograph, $13 each additional, free HOF inscription, $5 for other inscription) & Bruins legend REGGIE LEMELIN ($11 for 1 autograph, $9 each additional) Meet former Bruins goalie & 2004 NHL Rookie of the Year ANDREW RAYCROFT (11-12:30, $11 for 1 autograph, $9 each additionanl. Free "thanks for a great year" gift to the 1st 75 people who ask at the admissions table !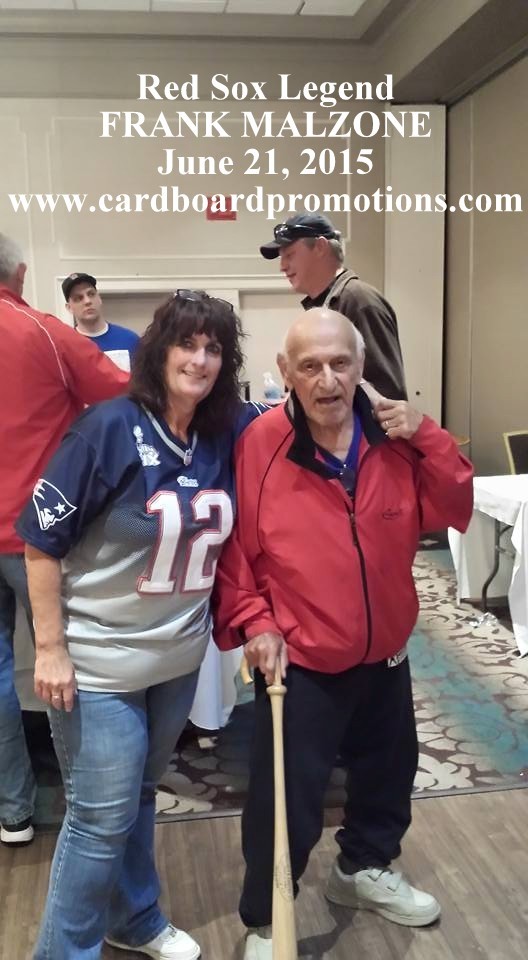 The show has raised thousands of dollars
for local charities as we've had at least one charity event/signing here each year since 1997. $795.00 was donated to charity thanks to Luis Tiant's appearance here in June.

$600.00 was donated by former Patriot Sammy Morris to Attleboro High School football in conjunction with his appearance at the March show here.

$605.00 was raised/donated between the Special Olympics & Easter Seals of RI thanks to Rico Petrocelli's appearance at the Friday after Thanksgiving show last year. $302.00 was donated to the Massachusetts Speech Apraxia Walk thanks to Frank Malzone's appearance here last year before sadly passing away a few months later. Also, special thank to Bernie Carbo for multiple charity appearances here. ............
Here are a couple links about the card show: nice article on this card show in the Boston Globe You Tube Videos of the Card Show another nice article on the card show
Our web page was established in 1999 & last updated November 27. Since 2005, we've had nearly half a million visitors to the web site. Presented by Douglas Keating since 1991 For additional information or to be placed on our email list, please email douglaskeating@gmail.com or call or text 508-369-2471. Show Vendor Information including just added 2017 card show schedule