Cardboard Promotions Big Sports Card & Memorabilia Shows,

Holiday Inn, 31 Hampshire St., Mansfield, MA

Buy-Sell-Trade....Free Packs of Cards for All...Free Hourly Door Prizes.....Hours of 8:45 am to 2:45 pm

.....

75+ vendor tables (unless noted), $2 admission, under 12 free, free after 12:45. To follow the show on Facebook & Twitter:

Click here for Mail Order Prices on upcoming & previous autograph guests

(Prices are different than in-person autographs
Memorial Day, Monday, May 30 show Meet 2 time Cy Young winner, 1968 AL MVP & last 30 game winning pitcher DENNY MCLAIN ($14 for 1 autograph, $12 each additional, $5 per inscription) & 1967 Cy Young Winner JIM LONBORG ($12 for 1 autograph, $10 each additional) 10:45-12:30 Meet SGC (sgccard.com) for any type of autograph authentication. Meet former Bruins enforcer LYNDON BYERS, 10-11:30 ($10 per autograph, just added) Meet current Patriots RUFUS JOHNSON ($9 for 1 autograph, $7 each additional) & BRANDON KING ($9 for 1 autograph, $7 each additional), 11-12:15. Show date expanded to 87 vendor tables More About the Card Show including Directions
Sunday, June 19 -- Fathers Day Meet Red Sox legend LUIS TIANT, 10:30-12:30 ($15 for 1 autograph, $12 each additional, signing for charity, $5 per inscription - limited to 20) & Red Sox 2004 World Series Champ LENNY DINARDO, 11-12:30 ($9 for 1 autograph, $7 each addiional) Meet Basketball Hall of Famer TOM "SATCH" SANDERS ($14 for 1 autograph, $12 each additional, free HOF inscription, $5 for other inscription) & Celtics 1957 NBA Champ TOGO PALAZZI ($5 per autograph, last appearance here), 11-12:30. Additional autograph guest(s) to be announced. Free admission and, 100 last, a free gift for all Fathers !
Sunday, July 10 Meet Red Sox 2007 World Series Champ JULIAN TAVAREZ, 11-12:30 ($10 for 1 autograph, $8 each additional) & Celtics 2 time NBA Champ STEVE KUBERSKI ($8 for 1 autograph, $6 each additional) FREE autographed photo of a PREVIOUS autograph guest to the 1st 65 people who ask for 1 at admissions table !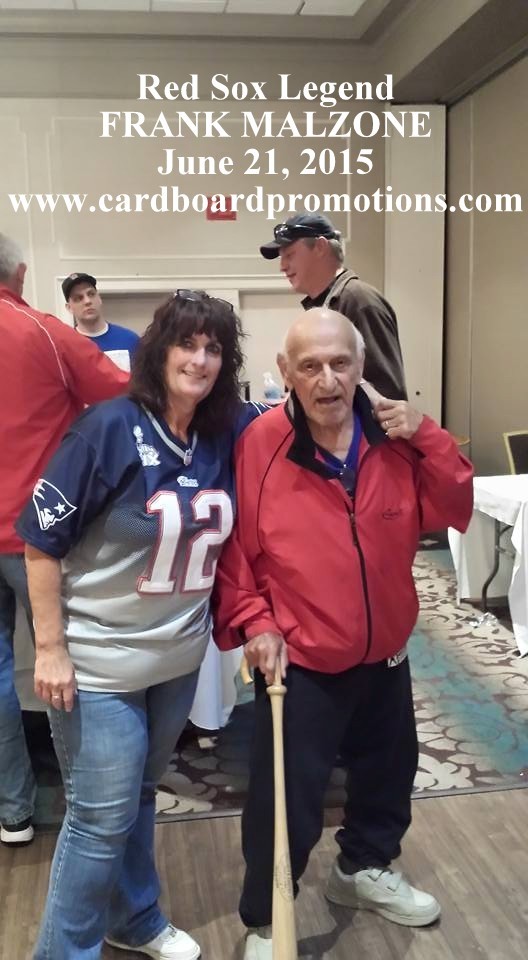 The show has raised thousands of dollars
for local charities as we've had at least one charity event/signing here each year since 1997. $605.00 was raised/donated between the Special Olympics & Easter Seals of RI thanks to Rico Petrocelli's appearance at the Friday after Thanksgiving show last year. $302.00 was donated to the Massachusetts Speech Apraxia Walk thanks to Frank Malzone's appearance here last year before sadly passing away a few months later. Also, special thank to Bernie Carbo & Luis Tiant for multiple charity appearances here. $600.00 was donated by former Patriot Sammy Morris to Attleboro High School football in conjunction with his appearance at the March show here
Our Web Page was established in May, 1999 & last updated May 16, 2016. Since 2005, we've had 100,000 visitors plus an additional:
Show Vendor Information including entire 2016 card show schedule Presented by Douglas Keating since 1991. To be placed on our email list or for additional information, please email douglaskeating@gmail.com or call 508-369-2471.